Species Profile
Barrow's Goldeneye Eastern population
Scientific Name: Bucephala islandica
Taxonomy Group: Birds
Range: Quebec, New Brunswick, Prince Edward Island, Nova Scotia, Newfoundland and Labrador
Last COSEWIC Assessment: May 2011
Last COSEWIC Designation: Special Concern
SARA Status: Schedule 1, Special Concern
---
Quick Links: | Photo | Description | Distribution and Population | Habitat | Biology | Threats | Protection | Recovery Team | National Recovery Program | Documents
Image of Barrow's Goldeneye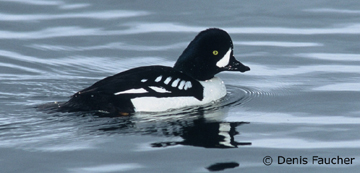 Description
The Barrow's Goldeneye is a diving duck of medium size (males weigh 1150 grams and females weigh 800 grams). Males and females can be distinguished from each other based on size and plumage. Breeding male barrow goldeneyes are black and white. They have a purplish black head and have a patch, which is crescent-shaped and white, at the base of the bill. Females are greyish brown black below and whitish on their flanks and belly, with a chocolate brown head. In addition, adult females have quite striking bright orange bills in winter and spring.
Distribution and Population
The Barrow's Goldeneye primarily breeds and winters in Canada. It also breeds in Alaska, Wyoming, and Montana and small populations of it occur in Washington, Oregon, and northern California. A small resident population is also found in Iceland. In Canada, most Barrow's Goldeneyes breed and winter west of the Rocky Mountains and to a lesser extent in Alberta and southern Yukon. The limits of the range of the eastern population of Barrow's goldeney are still unknown. Data indicate that it breeds only in Canada with the only confirmed breeding records are from Quebec. Small numbers of this population winter in the Maritime Provinces and along the northern Atlantic coastline in the United States. About 3 500 to 4 000 birds of this species winter in Quebec, 2 500 winter along the St. Lawrence Estuary, 1 000 to 1 500 along the Gulf of St. Lawrence, and approximately 400 in the Atlantic Provinces and Maine. Based on this information, the wintering population of Barrow's Goldeneye in eastern Northern America is estimated at about 4 500 individuals or 1 400 pairs (30% of birds are adult females). Specific population trends are unknown but it is believed that the eastern population of the species declined during the 20th Century and that it may still be declining.
Habitat
In Western areas of Canada, Barrow's Goldeneye prefers alkaline to freshwater lakes during the breeding season. They have a particular preference for lakes that do not contain any fish. In Quebec, the eastern population inhabits the balsam fir-white birch forest regions of the province. More specifically, birds appear to be restricted to small, high elevation lakes north of the St. Lawrence Estuary and Gulf. During the non-breeding season, the species spends time in the coastal waters of the Estuary and Gulf. In eastern Canada, there has been a significant reduction in the amount of suitable breeding habitat due to logging and fish introduction. There has also been a reduction in the quality of wintering habitat along the St. Lawrence corridor, stemming from contamination of the river's sediments.
Biology
Barrow's Goldeneye is monogamous and first breeds around two years of age. Breeding occurs primarily in tree cavities, more rarely in rock crevices and other cavities, and the species can easily adapt to using nest boxes. Nests are usually placed within one to two kilometers from water and from two to 15 meters in height. Females raise one brood per year, clutch size is 6 to 12 eggs and the incubation period is 30 days. The Barrow's Goldeneye feeds in inland waters during the breeding season, where its diet includes aquatic insects and crustaceans. During winter, its diet focuses on the molluscs and crustaceans of coastal waters.
Threats
During late fall, winter and early spring, large numbers of the eastern population congregate in a few areas along the St. Lawrence corridor. One single oil spill could have a significant impact on this small population. Sediment contamination of key wintering areas could also affect the birds along the corridor. Hunting is another threat. The number of birds harvested each fall is low but even a small continuous harvest could have a significant impact on this population. Forest exploitation is a threat to the species' breeding grounds. It destroys nests, reduces the number of potential nest sites, exposes young to predation and increases disturbance by making lakes more accessible. In addition, lakes that were originally fishless have now been stocked with brook trout, and there are indications that the presence of these fish could reduce the quality of lakes for Barrow's Goldeneye.
Protection
Federal Protection
More information about SARA, including how it protects individual species, is available in the
Species at Risk Act: A Guide
.
The Barrow's Goldeneye Eastern population is protected by the federal Migratory Birds Convention Act. Under this Act, it is prohibited to kill, harm, or collect adults, young, and eggs. It is also protected under the Newfoundland and Labrador Endangered Species Act.
Provincial and Territorial Protection
To know if this species is protected by provincial or territorial laws, consult the provinces' and territories' websites.
Recovery Team
CWS-Quebec Species at Risk Recovery Unit
Unité du rétablissement des espèces en péril du SCF-QC - Chair/Contact -
Phone: 1-855-253-6708 Send Email
Recovery Progress and Activities
Summary of Progress to Date Breeding habitat loss via forest exploitation represents the greatest threat to the eastern population of the Barrow's Goldeneye. Oil spills also represent a threat because of the winter concentration of the population along the St. Lawrence River Estuary and Gulf, which is a very busy waterway. Revised hunting regulations are helping to protect the population, although additional revision may be necessary to protect the species on breeding areas and along the Gulf of St. Lawrence. Summary of Research/Monitoring From 1997 to 2005, the distribution, seasonal abundance, and age and sex ratios of wintering Barrow's Goldeneyes was documented in the St. Lawrence River Estuary and Gulf by a combination of ground and helicopter surveys. Adult males wintering along the St. Lawrence Estuary were marked with satellite transmitters to document their breeding, moulting, wintering distribution and phenology, and to describe the timing and routes of their spring, moult and fall migrations. The use of nest boxes by Barrow's Goldeneyes was evaluated during 1999-2004 on lakes of the Laurentian Highlands, in the boreal forest of Québec. Fishless and high elevation lakes are linked to the presence of Barrow's Goldeneyes pairs on lakes of the Sainte-Marguerite River watershed, in the Québec's eastern boreal forest. Natural breeding cavities have been searched since 2004 in some of the few breeding areas accessible by road in Québec's eastern boreal forest. Hundreds of lakes of the eastern boreal forest of Québec have been surveyed for breeding pairs (in spring) since 2000 to create a more accurate breeding range. Summary of Recovery Activities A memorandum on the Barrow's Goldeneye eastern population was presented to the Québec Province Ministry of Natural Resources and Wildlife (Ressources naturelles et Faune) in 2005, to highlight the importance of that population at risk when considering the potential impact of the forest industry. Management recommendations have been made to the Québec Province Ministry of Natural Resources and Wildlife (Ressources naturelles et Faune) to reduce the potential impact of the forest industry on the eastern population of Barrow's Goldeneye. Interpretation panels were produced and installed at important wintering sites, including, La Malbaie, Baie-des-Rochers and Baie-Comeau. URLs Canadian Wildlife Service: Quebec Regionhttp://www.qc.ec.gc.ca/faune/oiseaux_menaces/html/garrot_dislande_e.html
Documents
PLEASE NOTE: Not all COSEWIC reports are currently available on the SARA Public Registry. Most of the reports not yet available are status reports for species assessed by COSEWIC prior to May 2002. Other COSEWIC reports not yet available may include those species assessed as Extinct, Data Deficient or Not at Risk. In the meantime, they are available on request from the COSEWIC Secretariat.
6 record(s) found.
COSEWIC Status Reports
COSEWIC Assessments
Response Statements
Response Statement - Barrow's Goldeneye, Eastern population (2011)

This population is found only in eastern regions of Canada. The population is small, but has been relatively stable over the last 10 years. Despite recent improvements in protection, threats from loss and degradation of forested habitats, in particular, are ongoing. 
Action Plans
Multi-species Action Plan for Gros Morne National Park (2016)

The Multi-species Action Plan for Gros Morne National Park of Canada is a SARA action plan (SARA s.47) for Piping Plover (melodus subspecies), American Marten (Newfoundland population), and Red Crossbill (percna subspecies). The plan also outlines measures to monitor and manage 11 other species of conservation concern that regularly occur in the Park. This plan applies only to lands and waters occurring within the boundaries of Gros Morne National Park.
Management Plans
Management Plan for the Barrow's Goldeneye (Bucephala islandica), Eastern Population, in Canada (2013)

The Barrow's Goldeneye is a sea duck that occurs in three distinct populations in North America and Iceland. The Eastern population of Barrow's Goldeneye in North America was assessed in 2000 by the Committee on the Status of Endangered Wildlife in Canada (COSEWIC) as a species of special concern and was listed as such in Schedule 1 of the Species at Risk Act (SARA) in 2003.
COSEWIC Annual Reports
Date modified: