Species Profile
Long's Braya
Scientific Name: Braya longii
Taxonomy Group: Vascular Plants
Range: Newfoundland and Labrador
Last COSEWIC Assessment: May 2011
Last COSEWIC Designation: Endangered
SARA Status: Schedule 1, Endangered
---
Quick Links: | Photo | Description | Distribution and Population | Habitat | Biology | Threats | Protection | Recovery Initiatives | Recovery Team | National Recovery Program | Documents
Image of Long's Braya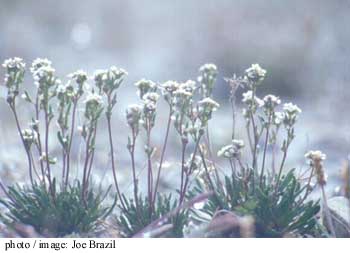 Description
Long's braya is a scapous perennial (flower-stalk grows directly from the ground) with fleshy, basal leaves that are greyish-green to blue. It stands erect at a height of 1-10 cm or more. A deep taproot anchors the plant and reaches adequate moisture. Its scape is green to purplish and pubescent with simple, branched hairs. The flowers are individually connected to the central scape on stems that often bear a single leaf. Leaves are spatula-shaped with pointed ends and measure 1-4 cm in length, 1-3 mm in width. As with all members of the mustard family, each flower has four tall and two short stamens (male fertilizing organs). The white petals have claws that are usually tinged with bluish- or reddish-violet. Each small flower is held within a protective layer of four oval, green to purple-tinged sepals. The septum margins are broadly expanded at the base, forming a sack-like, hairless pouch. A single row of 10-16 seeds, each 1-1.5 mm long, sits at the bottom of each pouch. Long's braya is similar to Fernald's braya except for its pouch, which is hairless; its petals, which are larger; and its seedpods, which are not quite as purple.
Distribution and Population
The Long's braya is endemic to Newfoundland, where it is found at Sandy Cove, Yankee Point, and Savage Point in the Strait of Belle Isle. Sandy Cove supports two populations: one, discovered in the mid-1920s, has been largely destroyed by quarry activity and now consists of only three specimens; the other is comprised of 35-50 plants. Yankee Point supports more than 200 individuals, many of which are robust, growing in a parking area subject to continuous traffic by large gravel trucks. This group is also at risk of being bulldozed. The size of the Savage Point population used to be unknown. Population estimates indicated that there were a total of 6000 plants within 3 populations of Long's braya. According to estimates from the summer of 2000, there are approximately 7000 plants in 4 sites. The populations appear to be stable.
Habitat
Long's braya is found in habitats with tundra-like vegetation and shallow, calcium-rich soils, areas typically well-drained and often windswept in the winter. It grows on limestone substrates such as may be found in turfy areas between limestone rocks or in areas with loose limestone gravels. The populations are most robust in recently disturbed areas. In summer, the plants receive little or no shade; in winter they are often exposed to extreme cold and scouring winds. Frost prevents other plants from becoming established in these sites.
Biology
Long's braya is self-pollinating and has a highly successful seed set. Its seeds rely on wind for dispersal, but the wind only carries the seeds short distances, which explains why the species cannot establish itself in new areas once a site is destroyed. It is typically found in small, isolated colonies. In recently disturbed sites, Long's braya is often a dominant member of the plant community, but on less recently disturbed sites its populations consist of only a few scattered individuals, probably as result of competition from other species. The plant dies back to the crown in winter and regrows each spring. Individual plants can live for several years.
Threats
The population is easily maintained in areas where there are continued natural disturbances, given an appropriate habitat and seed source, although the extraction of resources and uncontrolled development do present a threat to the species.. A large percentage of Newfoundland's coastal limestone barrens have been destroyed over the past 20 years, since many communities along the northwestern coast have used them as a source of gravel for local construction. While man-made locations have provided suitable habitat, too much traffic or quarrying can destroy a site. Predation by moth larvae and traffic from all-terrain and other vehicles become limiting factors when braya population levels are low. Recently, the newly established threat of mortality due to a non-native insect is being investigated; at this point, the effects of the insect on the recovery of the plant cannot be determined.
Protection
Federal Protection
The Long's Braya is protected under the federal
Species at Risk Act
(SARA). More information about SARA, including how it protects individual species, is available in the
Species at Risk Act: A Guide
.
Long's Braya is protected by the Newfoundland and Labrador Endangered Species Act. Under this Act, it is prohibited to kill, harm, trade, or possess members of this species.
Provincial and Territorial Protection
To know if this species is protected by provincial or territorial laws, consult the provinces' and territories' websites.
Recovery Initiatives
Status of Recovery Planning
Recovery Strategies :
Name Recovery Strategy for the Long's Braya (Braya longii) and the Fernald's Braya (Braya fernaldii) in Canada
Status Final posting on SAR registry
Recovery Team
Limestone Barrens Species at Risk Recovery Team, NL
Susan Squires - Chair/Contact - Government of NL
Phone: 709-637-2963 Fax: 709-637-2080 Send Email
Documents
PLEASE NOTE: Not all COSEWIC reports are currently available on the SARA Public Registry. Most of the reports not yet available are status reports for species assessed by COSEWIC prior to May 2002. Other COSEWIC reports not yet available may include those species assessed as Extinct, Data Deficient or Not at Risk. In the meantime, they are available on request from the COSEWIC Secretariat.
6 record(s) found.
COSEWIC Status Reports
COSEWIC Assessment and Status Report on the Long's Braya, Braya longii in Canada (2011)

Braya longii Fernald, Long's Braya, Brassicaceae (Cruciferae). Long's Braya is a caespitose perennial (1-10 [16] cm tall) with linear-spatulate leaves and scapose racemes of small white flowers. Braya longii, which has glabrous siliques, can be distinguished easily in the field from the somewhat smaller Braya fernaldii, which has pubescent siliques. The petal claws of B. longii are bluish- to reddish- violet; petal limbs are white. Petals of Braya fernaldii have been described as pink, but field observations indicate that most plants have white petals, which may or may not be tinged with pink.
Response Statements
Recovery Strategies
Recovery Strategy for the Long's Braya (Braya longii) and the Fernald's Braya (Braya fernaldii) in Canada (2012)

The Long's Braya (Braya longii Fernald) and Fernald's Braya (B. fernaldii Abbe) were listed as Endangered and Threatened, respectively, under the federal Species at Risk Act in 2003 and the Newfoundland and Labrador Endangered Species Act in 2002. A single recovery strategy for these two species has been developed due to the similarity in occurrences, threats, and recovery approaches. The Minister of the Environment and the Minister responsible for the Parks Canada Agency are the competent ministers for the recovery of the Long's Braya and Fernald's Braya, and have prepared this strategy, as per section 37 of SARA. It has been prepared in cooperation with Province of Newfoundland and Labrador.
Action Plans
Action Plan for the Long's Braya (Braya longii) and the Fernald's Braya (Braya fernaldii) in Canada (2016)

The Minister of the Environment and Climate Change and Minister responsible for Parks Canada Agency is the competent minister under SARA for Long's Braya and Fernald's Braya and have prepared this action plan to implement the recovery strategy, as per section 47 of SARA. To the extent possible, it has been prepared in cooperation with Fisheries and Oceans Canada and the Province of Newfoundland and Labrador.
COSEWIC Annual Reports
Residence Description
Date modified: