Species Profile
Beluga Whale Western Hudson Bay population
Scientific Name: Delphinapterus leucas
Taxonomy Group: Mammals
Range: Nunavut, Manitoba, Ontario, Arctic Ocean, Atlantic Ocean
Last COSEWIC Assessment: May 2004
Last COSEWIC Designation: Special Concern
SARA Status: No schedule, No Status
---
Related Species
Quick Links: | Photo | Protection | National Recovery Program | Documents
Image of Beluga Whale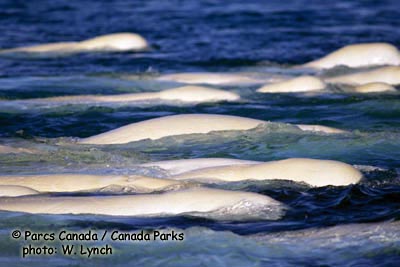 Protection
Federal Protection
Provincial and Territorial Protection
To know if this species is protected by provincial or territorial laws, consult the provinces' and territories' websites.
Documents
PLEASE NOTE: Not all COSEWIC reports are currently available on the SARA Public Registry. Most of the reports not yet available are status reports for species assessed by COSEWIC prior to May 2002. Other COSEWIC reports not yet available may include those species assessed as Extinct, Data Deficient or Not at Risk. In the meantime, they are available on request from the COSEWIC Secretariat.
7 record(s) found.
COSEWIC Status Reports
Response Statements
Response Statement - Beluga Whale, Western Hudson Bay population (2004)

The population appears to be relatively abundant, although it has not been surveyed for 15 years and may consist of more than one population. The population is subject to substantial removals by hunting in parts of its range, and is potentially threatened by shipping and hydroelectric dams.
Orders
COSEWIC Annual Reports
COSEWIC Annual Report - 2004 (2004)

2004 Annual Report to the Canadian Endangered Species Conservation Council (CESCC) from the Committee on the Status of Endangered Wildlife in Canada.
Consultation Documents
Consultation on Amending the List of Species under the Species at Risk Act: November 2004 (2004)

The Government of Canada proclaimed the Species at Risk Act (SARA) on June 5, 2003 as part of its strategy for the protection of wildlife species at risk. Attached to the act is Schedule 1, the list of the species that receive protection under SARA, hereinafter referred to as the 'SARA list'. Canadians are invited to comment on whether all or some of the species included in this document should be added to the SARA list.

Consultation Workbook on the Addition of Three Populations of Belugas to the SARA List- Cumberland Sound Belugas, Eastern High Arctic-Baffin Bay Belugas, Western Hudson Bay Belugas (2004)

Your opinion is being sought to assist the government of Canada in making an informed decision on whether to add the Cumberland Sound population, Eastern High Arctic-Baffin Bay population and Western Hudson Bay population of Belugas to the Schedule 1 (the List of Wildlife Species at Risk) of the Species at Risk Act (SARA). Your input on the impacts of adding these populations to the List is important. This workbook has been developed to give you an opportunity to provide Fisheries and Oceans Canada with your feedback, advice, and other comments regarding adding these populations to Schedule 1 of SARA (Schedule 1 identifies which species are legally protected under SARA).
Date modified: