Species Profile
Virginia Goat's-rue
Scientific Name: Tephrosia virginiana
Other/Previous Names: Goat's-rue
Taxonomy Group: Vascular Plants
Range: Ontario
Last COSEWIC Assessment: November 2009
Last COSEWIC Designation: Endangered
SARA Status: Schedule 1, Endangered
---
Quick Links: | Photo | Description | Distribution and Population | Habitat | Biology | Threats | Protection | Recovery Initiatives | National Recovery Program | Documents
Image of Virginia Goat's-rue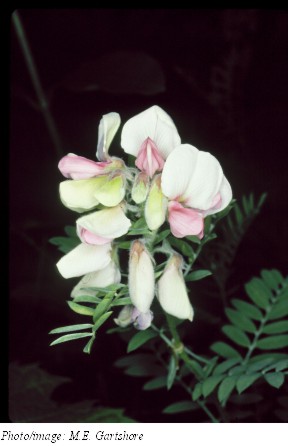 Description
Virginia Goat's–rue (Tephrosia virginiana) is an erect perennial herb in the pea family (Fabaceae). Its stems generally reach 30 to 70 cm in height and arise from a branched woody crown and slender tough woody roots. Its stems, branches, and leaf stalks are densely covered with fine whitish hairs. The compound leaves are alternate, short–stalked, and bear an odd number of pinnately–arranged leaflets. Flowers are typical pea–like in appearance and bicoloured; the larger upper petal is yellow to cream–coloured, with the smaller lateral petals and lower keel being pink to pale purple. Fruits are hairy, flattened, linear pods ranging in size from 3.5 to 5.5 cm containing 6 to 11 kidney–shaped seeds. (Updated 2017/05/31)
Distribution and Population
Virginia Goat's–rue is limited to eastern and central North America, centred in Tennessee and Kentucky, ranging as far south as Texas and Florida. It is found as far west as Nebraska and north to Minnesota. In Ontario, Virginia Goat's–rue is at the northern limit of its global range. It is limited to a small area of southern Ontario on the north shore of Lake Erie. The present range of Virginia Goat's–rue in Canada extends over an area of about 10 km². The actual area of habitat occupied is roughly 0.16 ha or 0.002 km². The Index of Area of Occupancy based on a 2x2 km grid is 20 km². (Updated 2017/05/31)
Habitat
Throughout its range, Virginia Goat's–rue is found in a variety of oak or pine woods, oak savanna, pine barrens, as well as sand prairies, sand dunes and open sand barrens. In Ontario, Virginia Goat's–rue is limited to acidic sand deposits of the Norfolk Sand Plain in remnant Black Oak savanna and open Black Oak woodland. Trends suggest overall habitat reductions throughout its range, including oak savanna in Ontario, one of the most endangered ecological communities in Canada. (Updated 2017/05/31)
Biology
Virginia Goat's–rue is a perennial flowering herb that produces flowers and fruit many times over the course of its lifetime; it flowers from late June through July in Ontario. The species may be self–pollinated but also appears adapted to bee pollination. Plant lifespan is not known, but the deep, woody taproots indicate longevity. Virginia Goat's–rue is drought and fire adapted, possessing deep woody roots most likely with nitrogen fixing abilities. (Updated 2017/05/31)
Threats
The main limiting factor affecting Virginia Goat's–rue in Canada is lack of suitable habitat. Direct threats are relatively minor and include trampling and mowing within the Turkey Point Natural Area, and erosion, a more serious threat, at Vittoria Dune Ridge. Indirect threats are more severe overall, and include habitat succession and lack of disturbance for many sub–populations. At present, invasive species are a minor threat, although in the long–term they could become a more serious threat. (Updated 2017/05/31)
Protection
Federal Protection
The Virginia Goat's-rue is protected under the federal
Species at Risk Act
(SARA). More information about SARA, including how it protects individual species, is available in the
Species at Risk Act: A Guide
.
Provincial and Territorial Protection
To know if this species is protected by provincial or territorial laws, consult the provinces' and territories' websites.
Recovery Initiatives
Status of Recovery Planning
Recovery Strategies :
Name Recovery Strategy for the Virginia Goat's-rue (Tephrosia virginiana) in Canada
Status First posting on SAR registry
Documents
PLEASE NOTE: Not all COSEWIC reports are currently available on the SARA Public Registry. Most of the reports not yet available are status reports for species assessed by COSEWIC prior to May 2002. Other COSEWIC reports not yet available may include those species assessed as Extinct, Data Deficient or Not at Risk. In the meantime, they are available on request from the COSEWIC Secretariat.
7 record(s) found.
COSEWIC Status Reports
COSEWIC Assessment and Status Report on the Virginia Goat's-rue Tephrosia virginiana in Canada (2010)

Virginia Goat's-rue (Tephrosia virginiana) is an erect perennial herb in the pea family (Fabaceae). Its stems generally reach 30 to 70 cm in height and arise from a branched woody crown and slender tough woody roots. Its stems, branches, and leaf stalks are densely covered with fine whitish hairs. The compound leaves are alternate, short-stalked, and bear an odd number of pinnately-arranged leaflets. Flowers are typical pea-like in appearance and bicoloured; the larger upper petal is yellow to cream-coloured, with the smaller lateral petals and lower keel being pink to pale purple. Fruits are hairy, flattened, linear pods ranging in size from 3.5 to 5.5 cm containing 6 to 11 kidney-shaped seeds.
COSEWIC Assessments
COSEWIC Assessment Summary and Status Report: Virginia Goat's-rue Tephrosia virginiana (2010)

Assessment Summary – November 2009 Common name Virginia Goat's–rue Scientific name Tephrosia virginiana Status Endangered Reason for designation A species of restricted geographical occurrence in Canada present as two remaining populations within remnant Black Oak savanna and Black Oak woodland habitats in southwestern Ontario. These habitats are globally rare and are one of the most threatened ecological communities in Canada. Most of the fewer than 600 plants are present as a single population within two nearby protected areas. Here the species is at risk from habitat degradation through successional changes. The very small second population, found on private land, is at risk of loss due to erosion of its sandy dune habitat. Occurrence Ontario Status history Designated Threatened in April 1996. Status re–examined and designated Endangered in May 2000 and November 2009. Please note that the related COSEWIC Status Report is available below in PDF format. You will be asked to provide your e-mail address then you will receive a link to download the publication. After processing, your email address is not retained in any way and is automatically discarded by our system.
Response Statements
Recovery Strategies
Recovery Strategy for the Virginia Goat's-rue (Tephrosia virginiana) in Canada (2015)

The Minister of the Environment is the competent minister for the recovery of the Virginia Goat's-rue and has prepared the federal component of this recovery strategy (Part 1), as per section 37 of SARA. SARA section 44 allows the Minister to adopt all or part of an existing plan for the species if it meets the requirements under SARA for content (sub-sections 41(1) or (2)). The Ontario Ministry of Natural Resources (now the Ontario Ministry of Natural Resources and Forestry) led the development of the attached recovery strategy for the Virginia Goat's-rue (Part 2) in cooperation with Environment Canada.
COSEWIC Annual Reports
COSEWIC Annual Report - 2010 (2010)

Under Canada's Species At Risk Act (SARA), the foremost function of COSEWIC is to "assess the status of each wildlife species considered by COSEWIC to be at risk and, as part of the assessment, identify existing and potential threats to the species". During the past year, COSEWIC held two Wildlife Species Assessment Meetings and reviewed the status of 79 wildlife species (species, subspecies, populations). During the meeting of November 2009, COSEWIC assessed or reviewed the classification of the status of 28 wildlife species. COSEWIC assessed or reviewed the classification of an additional 51 wildlife species (species, subspecies and populations) during their April 2010 meeting. For species already found on Schedule 1 of SARA, the classification of 32 species was reviewed by COSEWIC and the status of the wildlife species was confirmed to be in the same category (extirpated - no longer found in the wild in Canada but occurring elsewhere, endangered, threatened or of special concern). The wildlife species assessment results for the 2009-2010 reporting period include the following: Extirpated: 6 Endangered: 39 Threatened: 16 Special Concern: 17 Data Deficient: 1 This report transmits to the Minister the status of 46 species newly classified as extirpated, endangered, threatened or of special concern, fulfilling COSEWIC's obligations under SARA Section 24 and 25. A full detailed summary of the assessment for each species and the reason for the designation can be found in Appendix I of the attached report. Since its inception, COSEWIC has assessed 602 wildlife species in various risk categories, including 262 Endangered, 151 Threatened, 166 Special Concern and 23 Extirpated. In addition, 13 wildlife species have been assessed as Extinct. Also, to date, 46 wildlife species have been identified by COSEWIC as Data Deficient and 166 wildlife species were assessed as Not at Risk. This year has been a particularly productive year for COSEWIC's Aboriginal Traditional Knowledge (ATK) Subcommittee. In April 2010 COSEWIC approved the Aboriginal Traditional Knowledge Process and Protocol Guidelines, providing clear and agreed principles for the gathering of Aboriginal Traditional Knowledge to carry out COSEWIC functions as required under Section 15(2) of SARA (See Appendix III of the attached report). We are grateful for the rich and enthusiastic contribution made by community elders and experts in helping the ATK Subcommittee prepare the ATK protocols.
Consultation Documents
Consultation on Amending the List of Species under the Species at Risk Act: Terrestrial Species – November 2010 (2010)

As part of its strategy for protecting wildlife species at risk, the Government of Canada proclaimed the Species at Risk Act (SARA) on June 5, 2003. Attached to the Act is Schedule 1, the list of the species that receive protection under SARA, also called the List of Wildlife Species at Risk. Please submit your comments by February 4, 2011 for species undergoing normal consultations and by February 4, 2012 for species undergoing extended consultations.
Recovery Document Posting Plans
Environment and Climate Change Canada's Three-Year Recovery Document Posting Plan (2016)

Environment and Climate Change Canada's Three-Year Recovery Document Posting Plan identifies the species for which recovery documents will be posted each fiscal year starting in 2014-2015. Posting this three year plan on the Species at Risk Public Registry is intended to provide transparency to partners, stakeholders, and the public about Environment and Climate Change Canada's plan to develop and post these proposed recovery strategies and management plans. However, both the number of documents and the particular species that are posted in a given year may change slightly due to a variety of circumstances. Last update March 31, 2017
Date modified: