Species Profile
Seaside Centipede Lichen
Scientific Name: Heterodermia sitchensis
Other/Previous Names: Seaside Centipede
Taxonomy Group: Lichens
Range: British Columbia
Last COSEWIC Assessment: April 2006
Last COSEWIC Designation: Endangered
SARA Status: Schedule 1, Endangered
---
Quick Links: | Photo | Description | Distribution and Population | Habitat | Biology | Threats | Protection | Recovery Initiatives | Recovery Team | National Recovery Program | Documents
Image of Seaside Centipede Lichen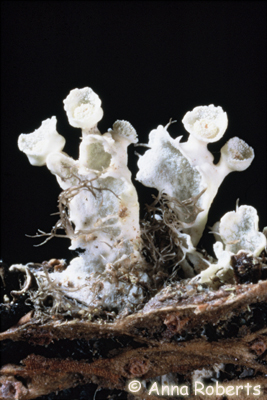 Description
Seaside Centipede Lichen is a semi-erect, leafy lichen that is shaped like a cushion. On average, this tiny lichen grows to 2 cm in width. The lobes are thin, stiff, separate and irregularly branched. The highly convex upper surface of the Seaside Centipede Lichen is a pale greenish white with a few scattered whitish spots. The lower surface is white and cottony. This species can be recognized by the presence of long, hair-like structures along the edges of its lobes and by the small urn-shaped structures near the tips of its lobes. The urns have prominent flaring rims and the inner surfaces of these rims are covered with numerous soredia (powdery reproductive structures).
Distribution and Population
Seaside Centipede Lichen is found only in coastal British Columbia and Oregon. The United States population consists of a single small and isolated population at Cape Lookout. In Canada, this species occurs from the Pacific Rim National Park Reserve to an area 210 km north of Vancouver Island. To date, it has only been recorded in 12 sites, 10 of which are in or near the Pacific Rim National Park Reserve. The two other sites are near the village of Kyuquot. The two original populations, i.e., the Ucluth Peninsula population near the northern tip of Ucluelet and the Schooner Cove population in the Pacific Rim National Park Reserve, have now disappeared.   Based on counts performed from 2001 to 2004, the Canadian population of the Seaside Centipede Lichen comprises 211 thalli spread out over 10 confirmed sites, with 65% of all individuals concentrated in two sites, the Florencia and Wouwer island sites in the Pacific Rim National Park Reserve and the site in the Kyuquot region.   Depending on the intensity of winter storms, population sizes can vary significantly from year to year. However, long-term trends in population size have not yet been documented.
Habitat
In Canada, the Seaside Centipede Lichen is limited to the old-growth Western Hemlock forests along the west coast of Vancouver Island. This species will only grow on the nitrogen-rich lower branches of Sitka Spruce trees. This lichen has very specific habitat requirements. Its presence appears to depend on the convergence of several factors, including proximity to the ocean and the seaward orientation of the site, the presence of old Sitka Spruce trees with defoliated lower branches, and the presence of sites rich in nitrogen and calcium such as sea lion haulouts or seabird nesting sites.
Biology
Given its strong tendency to colonize small branches, the Seaside Centipede Lichen has a short lifespan. Over the course of 10 to 15 years, the small branches are typically taken over by mosses, hepatics and other lichens, all of which tend to displace the Seaside Centipede Lichen.   Like all lichens, the Seaside Centipede Lichen is a plant organism composed of fungus and algae, which exist in a symbiotic relationship. This is a mutually beneficial relationship that is essential to their survival. While there are sexual fruiting structures near the tips of mature lobes, these structures are not involved in the lichen's reproductive process. This species reproduces vegetatively by releasing soredia, which are powdery particles containing cells from both of the partners that make up this lichen. These soredia are essentially instant lichen plants that can establish themselves directly without having to recreate the plant's characteristic symbiotic relationship. While the Seaside Centipede Lichen produces abundant soredia, they are confined to the inner surface of a few tiny structures at the tips of the lobes, which makes dispersal difficult. Forest birds may possibly help the Seaside Centipede Lichen to reproduce by carrying its soredia from tree to tree.
Threats
Logging operations constitute the main threat to the Seaside Centipede Lichen, due particularly to the enormous commercial value of its host, the Sitka Spruce.   Other threats to this species include housing developments, such as the project that resulted in the disappearance of a population in the southern part of Ucluth Peninsula and, albeit to a lesser extent, the gathering of branches by campers for use as firewood.   Seaside Centipede Lichen is very vulnerable to the increasingly harsh winter storm activity associated with global warming.
Protection
Federal Protection
The Seaside Centipede Lichen is protected under the federal
Species at Risk Act
(SARA). More information about SARA, including how it protects individual species, is available in the
Species at Risk Act: A Guide
.
Half of the Canadian population of Seaside Centipede Lichen is in the Pacific Rim National Park Reserve where it is protected by the Canada National Parks Act.
Provincial and Territorial Protection
To know if this species is protected by provincial or territorial laws, consult the provinces' and territories' websites.
Recovery Initiatives
Status of Recovery Planning
Recovery Strategies :
Name Recovery Strategy for the Seaside Centipede Lichen (Heterodermia sitchensis) in Canada
Status Final posting on SAR registry
Recovery Team
Seaside Centipede Lichen Recovery Team
Brian Reader - Chair/Contact - Parks Canada
Phone: 250-478-5131 Fax: 250-478-8415 Send Email
Recovery Progress and Activities
Summary of Progress to Date The Seaside Centipede was discovered in 1983 in Pacific Rim National Park Reserve. Prior to 2001, only two localities for this species were known. One of these sites was outside the Park Reserve, and was lost due to a housing development. Intensive field surveys are helping to determine the distribution of the lichen, as well as its habitat requirements. Summary of Research/Monitoring Activities Pacific Rim National Park Reserve was intensively surveyed for Seaside Centipede in 2001-2002. This study confirmed that the lichen has very particular habitat requirements, growing only on small slow-growing twigs of old Sitka Spruce trees near the ocean. Furthermore, the species requires exceptionally high levels of nutrient enrichment, particularly nitrogen. Two primary nitrogen sources are bird guano and sea lion scats (i.e., feces); Seaside Centipede typically grows below perching sites of birds or near sea lion winter haulouts. It is suspected that the high concentration of nitrogen in the air near sea lion haulouts permeates the bark of nearby trees. Surveys are also being conducted outside Pacific Rim National Park Reserve to establish the lichen's entire range in British Columbia. In 2004, Seaside Centipede was found in Kyuquot Sound, 130 kilometres north of Pacific Rim, representing the northern-most observation. Samples of Sitka Spruce branches from Seaside Centipede communities are being analyzed chemically to further clarify the lichen's pH and micronutrient requirements. Branches from other lichen communities are also being chemically analyzed for comparison. Summary of Recovery Activities Lichens are slow-growing and sensitive to disturbance. Furthermore, public use of Pacific Rim National Park Reserve is concentrated near the shore, which is also Seaside Centipede's preferred locale. Therefore, park users are asked not to collect branches with lichen for firewood. Hikers of the West Coast Trail are encouraged to take care when hanging food from trees to keep it away from rodents and bears; using a tree branch that already has the lichen rubbed off it is preferable to disturbing lichen on another branch. Cooperation of the public will help to minimize direct impacts on Seaside Centipede and other rare lichens found in Pacific Rim National Park Reserve.
Documents
PLEASE NOTE: Not all COSEWIC reports are currently available on the SARA Public Registry. Most of the reports not yet available are status reports for species assessed by COSEWIC prior to May 2002. Other COSEWIC reports not yet available may include those species assessed as Extinct, Data Deficient or Not at Risk. In the meantime, they are available on request from the COSEWIC Secretariat.
7 record(s) found.
COSEWIC Status Reports
COSEWIC Assessments
Response Statements
Recovery Strategies
Recovery Strategy for the Seaside Centipede Lichen (Heterodermia sitchensis) in Canada (2007)

The Seaside Centipede Lichen (Heterodermia sitchensis Goward and Noble) was described in the mid 1980s from the west coast of Vancouver Island, British Columbia (Goward 1984). It received official status in 1996 as endangered in Canada on the basis of its highly restricted global distribution, its endemic status in Canada, its specialized ecological requirements, and its extreme vulnerability to habitat degradation. The known population in Canada numbers 212 thalli, almost 90 percent of these in only five localities. Repeated surveys indicate a declining population at many sites.
Action Plans
Multi-species Action Plan for Pacific Rim National Park Reserve of Canada (2017)

Backed by the Insular Mountain Range of Vancouver Island and facing the open Pacific Ocean, Pacific Rim National Park Reserve of Canada (Pacific Rim NPR) protects and presents the rich natural and cultural heritage of Canada's west coast. Pacific Rim NPR consists of three distinct units, the Long Beach Unit, Broken Group Islands Unit, and West Coast Trail Unit, each offering a range of unique visitor experiences. With significant areas (51,216 ha in total) of old growth, temperate rainforest, coastal dune systems, wetlands and foreshore, and marine habitats, the park demonstrates the interconnectedness between land, sea, and people. These natural wonders are interwoven with the Nuu-chah-nulth First Nations culture (past and present), and that of European explorers and settlers.
COSEWIC Annual Reports
COSEWIC Annual Report - 2006 (2006)

2006 Annual Report to the The Minister of the Environment and the Canadian Endangered Species Conservation Council (CESCC) from the Committee on the Status of Endangered Wildlife in Canada.
Consultation Documents
Consultation on Amending the List of Species under the Species at Risk Act Terrestrial Species: December 2006 (2006)

The Government of Canada proclaimed the Species at Risk Act (SARA) on June 5, 2003 as part of its strategy for the protection of wildlife species at risk. Attached to the Act is Schedule 1, the list of the species that receive protection under SARA, hereinafter referred to as the 'SARA list'. Canadians are invited to comment on whether all or some of the species included in this document should be added to the SARA list. Please submit your comments by March 16, 2007 for species undergoing normal consultations and by March 14, 2008 for species undergoing extended consultations.
Date modified: